Hello humans, in this issue, we'll look at…
☠️ Game Over designers,
⚛️ AI Tools alternatives,
🛒 Best Practices for Mobile E-commerce,
❤️ Font-Pairing and Colors,
🏝️ Miami Hack Week Recap,
🥂 and much more…
---
☠️ Game Over for designers
In the past few days, designers have panicked and responded in two ways:
😅 Present Scenario: AI makes our work faster and improves our designs.
😬 Future Scenario: AI will replace our jobs and maybe make learning UX/UI Design pointless.
🧬 Throughout history, those (🧔🏽 humans or 🦍 animals) who learned how to collaborate and improvise most effectively have prevailed. You either adapt, or you die 😵.
In the last few days, Helen Zhou and Arnaud Bernard introduced us to Galileo AI, a powerful AI capable of creating UI designs and ready for use in Figma.
They are not alone because Diagram is bringing to the market a Github Copilot-like AI design tool called Genius and the Figma plugin Magician.
🔄 Some alternatives for ChatGPT
Some newly launched websites promise they can tell if the content was created by humans or AI now that everybody's using ChatGPT. Since ChatGPT is growing so fast, it won't be possible for a tool to grow fast enough to be ahead of ChatGPT at the moment.
AI tools I use and will keep using.
I plan to keep bots working for me, use all AI tools in the market in my design process, and start testing and incorporating new ones like starryai.
Like many people, I was expecting a big announcement from Google. Unfortunately, the chat tool Google Bard was disappointing and embarrassing for the big tech.
The tools I mentioned in my Miami Hack Week workshop are below.
– Juno, don't you have shame on your face using all these AI tools?
– No, just beauty. 😘
How to get the most from ChatGPT?
Check out my LinkedIn post, or at least try this step-by-step guide to get the most out of ChatGPT. You need to follow these steps to write a good prompt:
What you need: A blog, email, or Instagram caption.
Who's writing: From whose perspective should the text be?
Who is your audience, and who the intended text is for?
What you want to say and your Call-to-Action: this is where the core of the message gets created.
---
🛒 Best Practices for Mobile E-commerce
Taking into consideration that more than 60% of website traffic comes from mobile devices, with approximately 4.32 billion active mobile internet users, we should know more about how to improve the user experience effectively. This comprehensive study from Baymard Institute is an incredible benchmark tool to help you to understand what to improve.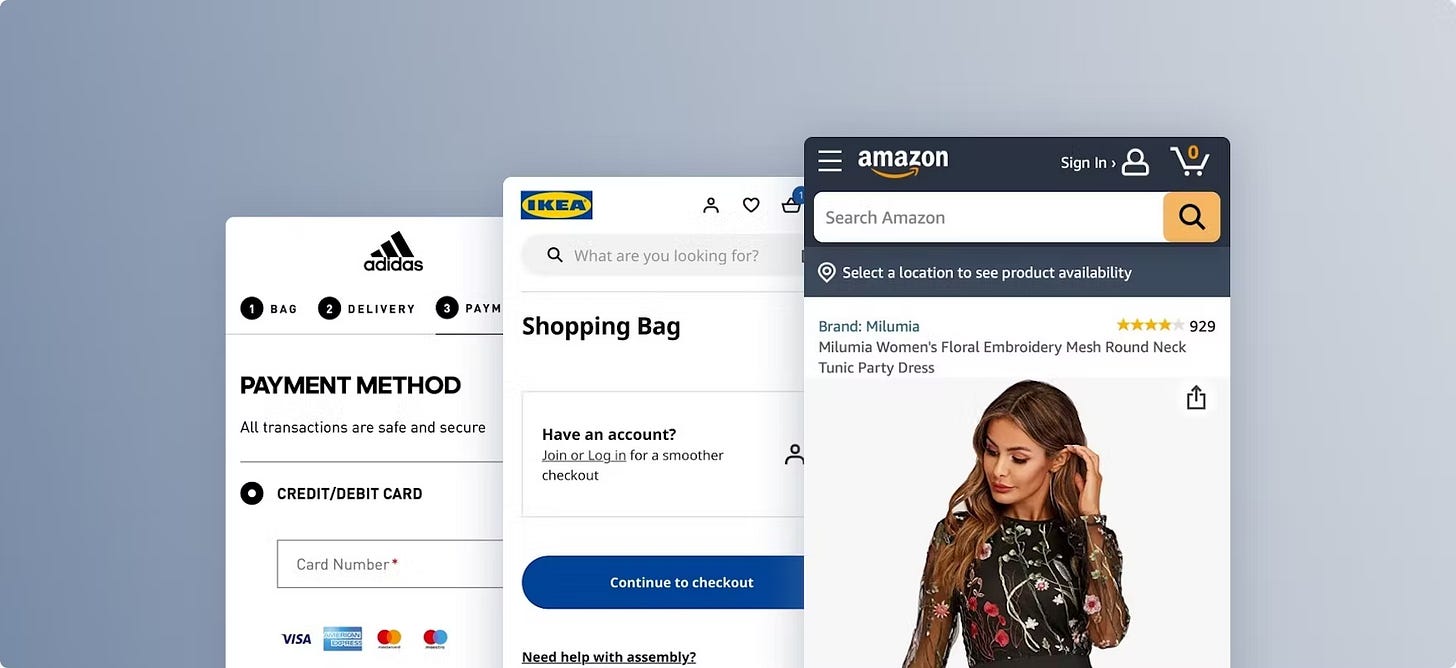 They compared more than 70 top e-commerce sites and added 12,000+ worst and best practice mobile examples from the top-grossing e-commerce sites in the US and Europe in the categories below:
Homepage & Category Navigation (32 guidelines)
On-Site Search (38 guidelines)
Product Lists & Filtering (60 guidelines)
Product Page (93 guidelines)
Cart & Checkout (107 guidelines)
Site-Wide Design & Interaction (23 guidelines)
---
❤️ Font-Pairing and Colors
I've been testing these tools, and trying out some creative combinations was fun. Wishing you some fun with Mixfont and Khroma.
---
👩‍🎓 Elevate your career to the next level
✨ PRESENTED BY IRONHACK ✨
Are you ready to take the next step in your career and become a user experience and user interface designer? Look no further than Ironhack's UX/UI Bootcamp! Our intensive program will give you the skills and knowledge you need to succeed in the industry. With our hands-on approach, you'll learn the latest design tools and techniques while working on real-world projects. You'll also have access to a network of industry professionals who will mentor you and provide valuable insight into the field.
Don't let lack of experience hold you back. Our bootcamp is designed for individuals with diverse backgrounds and no prior design experience. By the end of the program, you'll have a portfolio of work to showcase to potential employers. Don't wait any longer. Join Ironhack's UX/UI Bootcamp today and start your journey to becoming a successful designer.
---
🏝️ 2023 Miami Hack Week Recap
I had a blast meeting so many people during Miami Hack Week, an excellent time to meet old friends and make new ones. Feel free to add me if we're not connected on LinkedIn. I've posted some magical moments from the event. Looking forward to meeting you next year or at eMerge Americas.
---
🏁 Enjoy This Newsletter?
Forward it to a friend, and let them know they can subscribe here.
Also, you can submit a section for us to include in a future newsletter.
Join our Slack channel and my new TikTok account with UX tips.
To learn how to become a UX/UI Designer, enroll in the next Ironhack UX/UI Bootcamp.
See you next week!
Juno